Game Boy Pocket TFT LCD Kit - HISPEEDIDO
Perfect Refurb Project!
I did a refurbish GBP project with only the Motherboard|existent shell| and left over button membranes.From Handheld Legend.I grabbed an TFT lcd screen,Glass screen protector,and a pink buttons for this project.All elements acquired,worked perfectly with no hiccups.Quality products at a really good price.Thanks Handheld Legend!!!
Very nice screen, easy enough to install!
Overall, this TFT works for exactly what I wanted it to. The installation process was straightforward, and the only real issue that came up was the lack of a bracket. It cost me some time and headache trying to get the dang thing centered. But, the screen itself is gorgeous and I love having a backlit black-and-white screen in my GBP. Worth the money for sure, as the price was $15 lower than the IPS screen. If you like the old school look of the GBP screen but just want it to light up, get this :)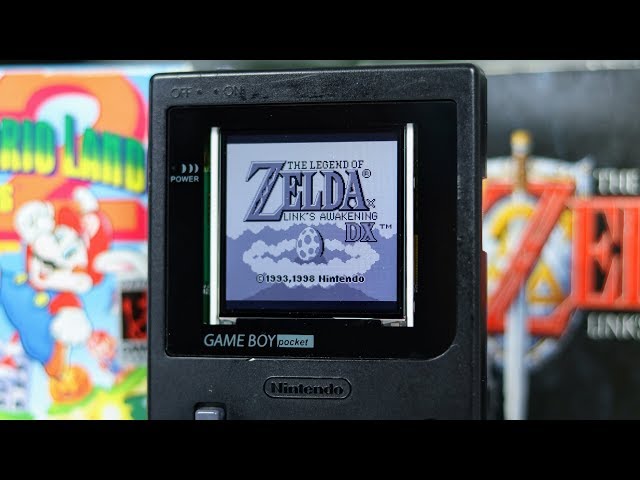 Great screen with pretty good installation
First off, here is the best tutorial I (thanks Shaun R.) have found:
https://www.youtube.com/watch?v=gT1XbwIfRYk
I did everything that Elliot did as far as where to wire up red and black wires. For the touch sensor, it ends up directly under the on/off switch so I bent mine at a 90 degree angle to the right so that it could fit into the housing of the plastic shell. That worked great for me and now when you touch above the red LED it toggles the brightness. Very happy overall but I had to use some double sided sticky foam to hold the screen, didn't use the provided foam. I think with some instructions and double sided tape to hod the top and bottom of the screen to the shell it would be a 5 star product.
I understand why it cheap
So the screen actually never turned on i try every method but I guess it didn't want to work the new speakers I bought work perfectly but no the screen
Looks great and not too difficult!
Finding a good guide for this was tough but I watched Elliot from the Retro Future install a similar one on his channel so that helped along with the guide linked in the description on this website. I couldn't get it to work when wrapping the wire around the battery terminal as shown in the guide on this website so I soldered it to a point the power switch like Elliot did. The screen looks great, it isn't too difficult to install and I am very satisfied with it.
Too difficult. Buy the IPS display.
The TFT display for the pocket requires too much folding of parts. Buy the IPS display. Is bigger and better. Easier to install.