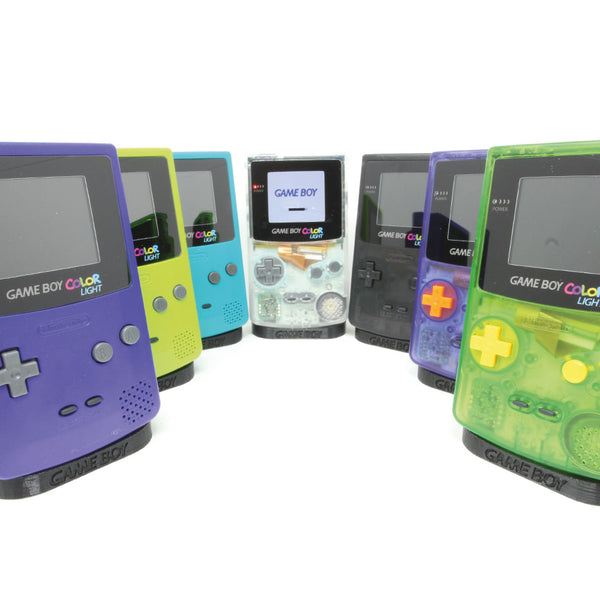 A chat with Jellybelly Customs' Matt Whitehead
Here at Hand Held Legend we're proud to be part of the modding community, and to count a number of other businesses - large and small - as partners and, yes, friends.
One of those businesses is Jellybelly Customs, who's name I'm sure you've seen in our social and other postings from time to time… well we had the notion of introducing, formally, Jellybelly Customs to those who may not know of him… and here is that brief interview:
Dustin
So no doubt there will be a mix of people who have, and have not, heard of Jellybelly Customs. If you would, introduce yourself and tell us what Jellybelly Customs is all about.
Matt
So I'm Matt Whitehead. I'm a family that has a hobby that has turned into a small business. It's run by me, in the evenings and spare time. The "Lab" or workshop is my garage where I work, make things, and store products.
Dustin
How long has your family had Jellybelly Customs going? It seems quite established from the number of things you're involved in.
Matt
It all started when my daughter was born, in 2016. I had other hobbies before, I was heavily into old Volkswagens but that activity was far too noisy to be doing with a newborn in the house. But it started when I found in a locale house clearance store that I visit. I get on well with the repair guys in this store so I get to see inside the workshop. They had a boxed [original Game Boy] DMG gameboy that didn't work. A price was agreed and I went about fixing it. Then I bought more off of eBay and saw the modifications that could be done. The rest went from there.
Dustin
What would you say is the motivation behind Jellybelly Customs as a business and why you keep it going?
Matt
It's mainly for the fun. I love to make and tinker. I'm not really a sofa and tv kinda guy.
Dustin
I feel like I resonate with you there - I also find I'd much rather be tinkering than on a couch… unless I happen to be playing a video game on one of my handhelds.
Do you get into gaming much or do you find that refurbishing and modding take the majority of your time and attention?
Matt
Yea very little gaming really. Most of my spare time is in the workshop making.
Dustin
Going by your social network posts, you have a lot of things going on… what currently has most of your attention in your Lab, and what are some of the other things that grab your attention lately?
Matt
My long term project is the DMG102 PCBs thats I've been doing for far too long. It's getting there now though. So now china is accepting orders again I can get some manufactured.
Other things when I'm not make or wrapping and packing orders is just trying to work through my backlog of stuff, [Sega] Game Gears and also sourcing things for the website. I like to use the right tool for the right job and I try to bring my most useful tools to the website to hopefully help others out.
Dustin
I must admit you have quite the variety on your site; what roles do you see yourself playing in the retro gaming community? As an outsider looking in, it seems to me you like to help the fellow tinkerer but also help people needing work done but would rather someone else do it. Is that the case?
Matt
I like making consoles for customers when ordered and myself which I then sell on often in low numbers. I like to learn the process behind things, like resin casting, learning the basics then improving on it 'till I achieve what I want. I like to make and provide things others can't which is why I started to cast items. The beauty about casting is that I can make 1 or 100 of any colour combination. Take the metallic gold buttons, I originally made some for my white and gold console but now they are a great seller people seem to like them. The issue with that is that things aren't mass produced and obviously the price reflects that. Some don't mind but some won't buy because of it. I'm not here to make my millions or take over the world like some are. I just want to learn, create, and Jellybelly Customs to be sustainable.
Dustin
So we've talked about some of the more visible things with Jellybelly Customs and yourself; what is something relatively unknown about you and/or Jellybelly Customs you feel people would find interesting?
Matt
Well I suppose its the fact that its just me, people assume [Jellybelly Customs] is more people but no it's just me in the workshop for around 3-4 hours most evenings.
Dustin
That's awesome - it's clear to see you're passionate about this to keep it going to that level.
Thank you, Matt, for your time.
We've just spent some time with Matt, the sole person behind Jellybelly Customs. Whether you be a tinkerer yourself or not, you're sure to find something of interest at his corner of the Internet, www.jellybellycustoms.com. Check it out and thanks for reading!