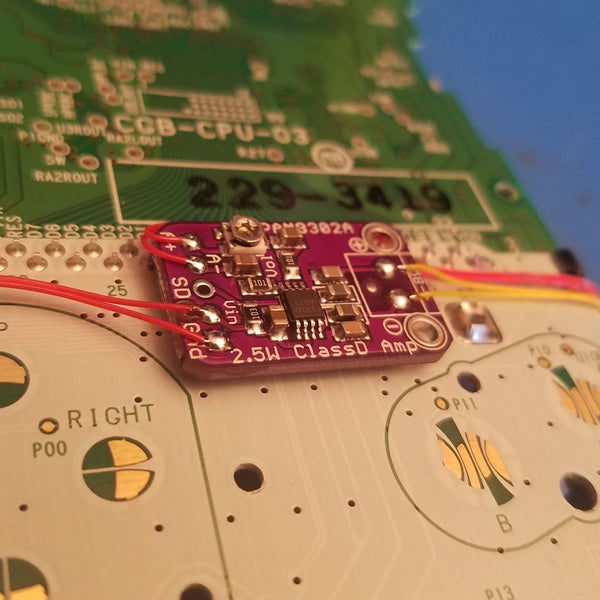 Audio amplification with the PAM8302A by Rainbow Repair (Natalie Marie)
All hail the PAM8302A - the little amp that could. For those not familiar with the 2.5-watt Class-D mono amplifier, the little PCB packs a lot of punch... it traditionally was made for Arduino consoles, but really works well in any console - especially in handhelds. Natalie Marie joins us today to talk about this tiny powerhouse and how it can add to your gaming experience.
===== ===== =====
Hows it goin everyone? Natalie here.
So I've long been a fan of the Game Boy family. Game Boy Color though had forever held a special place for me. And with my love for the Game Boy Color and my love for modding had my brain stirring up ideas how I could make my experience better than I already had it. Now I'll need to backtrack a bit so what I'm going to say makes more sense.
I've been in the Raspberry Pi scene for a few years now. With the knowledge and unique boards and hardware used in portable pi handhelds builds is where the gameboy amp mod you see here came from. The board used is a PAM8302A. Its a 2.5w class D amp that provides a significantly louder and clearer audio experience. Seeing that it gave the Raspberry Pi builds that, I figured why hasn't this board been used in a Game Boy yet? Ive seen the GBAmp3 amp before but the PAM8302A is far cheaper. Why not, right? So i got to work and wired it in.
Initially I had wired this on the back side removing the cartridge shielding and place it up top but I wanted to maintain the full OEM setup aside and opted to front mount it as you see now. This amp is so easy to set up and use it makes me smile once its all soldered in. I chose to not solder the headphone shutdown on the amp, as when I play I don't use headphones and when plugged in its pretty quiet anyways. It's not hard to wire in though as our friend Dustin [Hamilton, of Hand Held Legend] does it and could show you how.
Lastly, I decided to recap the board so that the Game Boy is in its best condition for now and the foreseeable future. I did one more mod which is an overclock mod with a speed toggle switch. If you'd like to know more, I may be able to have another article in the future about it if I'm lucky.
Anyways, with all the wordage out of the way, if you'd like to see this exact pictured amp installed, check out the linked tutorial i made below. Enjoy!
===== ===== =====
Dustin Hamilton, part of the Hand Held Legend team, here with a bit of an addendum... see below for a quick guide I created on how to wire-up the PAM8302A, including the headphone shutdown jack. Using the shutdown function allows you to have the amplifier turn itself off when you're using headphones - saving power on your console. The 10k ohm resistor is very important - so please know that up-front. Thanks to sjm4306 (Shawn Maxwell) and Roarke Murdock for their help in figuring out the right method for the shutdown.
For the Game Boy DMG, Game Boy Color, and Game Boy Advance, the shutdown pin is wired - with a 10k ohm resistor in-line - to pin #5 of the headphone jack as shown below in these images.
Would you like to see a deeper guide on installation for the Game Boy DMG, Game Boy Color, and Game Boy advance? It'd include the solder points, wire-routing, and placement. Send me a note and let me know! We could also ask Natalie to come back and share some knowledge about other consoles too.

Game Boy DMG

Game Boy Color

Game Boy Advance
===== ===== =====
About Rainbow Repair (Natalie Marie)
Natalie Marie is yet another friend of ours who is unflappable when it comes to mods - there is much of anything she can't figure out. We enjoy her very practical approach to modding and hope you will to.
She started Rainbow Repair in 2016, moving into handhelds in 2017, with the mission of expanding the hobby and prolifically helping both the new and experienced expand their skills.
Profile: Rainbow Repair (Natalie Marie)