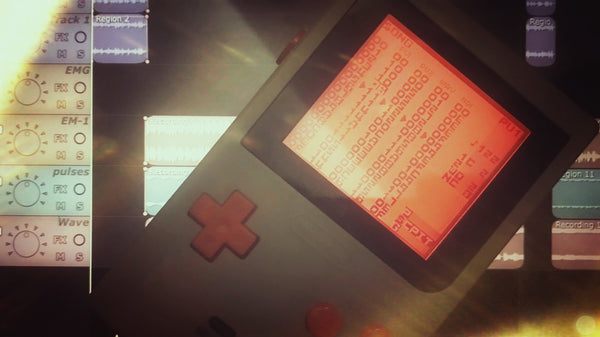 Chiptune: Form + Function (Part 1) by Kain De Rivera
Introduction
We need to be honest here - we've heard of chiptunes before, but it's always seemed to be this obscure thing that only a small group was into... but it has something to do with retro consoles... so what is it?
Thankfully for us, Kain De Rivera - author of the TI-84 Plus backlighting article - is back again... this time to tell us about chiptunes in a two-part mini-series. Lets get to it!
Part 1: Form
In its broadest sense, Chiptune is the repurposing of old or obsolete technologies for visual and sound artistic expressions. So by installing a Backlight and giving your worn down Gameboy DMG a new Shell, you are fine tuning your console, giving it a much needed hardware update. Congratulations, you are a chiptune artist if you have backlit your Gameboy!
The subject goes way deeper than retro-gaming, and it could be considered a niche within circuit bending. A very neat instrument is an original NES from 1985, where the video chip is hacked and modified to display glitches and patterns that can be controlled by the artist, rendering interesting visual art. One of the most popular instruments is of course, the legendary gameboy! Due to its accessibility, portability and surprisingly full sounding audio chip, the gameboy has left a huge mark not just on gamers, but on musicians as well.
The gameboy has a wide variety of ROMs (software) that allow full creative control over the console, the most popular are nanoloop and Little Sound DJ and lets not forget that the Gameboy Camera also sports Trippy-H a very basic sequencer that seems to have paved the road for fully-fledged music production on the gameboy.
One of the key ingredients for Chiptune is the use of a music tracker or simply called trackers. Little Sound Dj is a complete and advanced tracker native to the Gameboy. A tracker is number based, usually in hexadecimals and consists of independent channels, chains and waveforms that form a complete song in a master list of patterns. If you would like to get your feet wet in chip music production, I would recommend MilkyTracker, this software uses the vertical pattern display found in most trackers and is a great way of experiencing what goes into creating a chiptune track. MilkyTracker is a digital and limitless production station, which is lovely but can become exhausting, sometimes less is more. Which brings me back to the Gameboy, with only 4 channels of sound to work with, all sorts of techniques are implied to achieve polyphony or a complete song, such as sidechaining, instrument morphing and executable table commands. This is truly where all the fun lies, because chiptune is a mix of music composition and computer programming!
Overall, the chiptune scene seems to be growing exponentially which is very nice to see and experience. This is largely due to the gameboys "pop" factor and of course LSDJ (thank you eternally Johan!). With a shift from the Amiga/Computer days focusing solely on music production for games and programs to live performance, also due to the electronic dance music explosion, the chiptune community is full of grit and life! This following track is a remix I made for an electro-pop band named Data, I had the opportunity to perform with them one night, and I created a chiptune version of Dilema for them later on. It is created entirely on a Gameboy DMG running LSDJ:
https://datamx.bandcamp.com/track/dilema-pixeleated-drama
Additionally, the chipWIN community is an organization that hosts release parties, album reviews and features in depth articles about chip music production. A highly positive and inclusive attitude makes Chiptunes=WIN a great community to be a part of and see what is happening in chiptune. 
On a more personal note, Chip Music to me represents a few things that make me feel powerful. I love that the gameboy can actually compete with any modern electronic music production station. Repurposing and customizing gameboys also adds personality in my music and gives me a sense of rebellion. It is a statement that says, recycle and use what you have on hand, you don't need to consume or buy the latest gadgets to make electronic music and your custom console is your own, like you, there is truly no one else like it in this world, its personal and intimate.
With this in mind, the second part of this article will focus on staple modifications made to a gameboy in order to have the console chiptune ready!
- Kain De Rivera