Game Boy Advance IPS V3 Kit - AV TV Output Mod
Quality screen mod
Everything came together smoothly enough. I love playing on my tv.
Great mod but bad cable
I have done two of these mods and one set of the RCA cables worked great! The other set would not display video. I contacted the HHL support team and they were SUPER helpful and sent me a new RCA! I went to check the cable and it worked great but the first time I tried to unplug it from the GBA the cord snapped. I wish there was a way to just abut the RCA cable
Fantastic!
Easy install and works great!
Nice kit but few useless features
The brightness sensor is nice to have if you don't want to solder on any wires but the color changing sensor is useless and also very sensitive.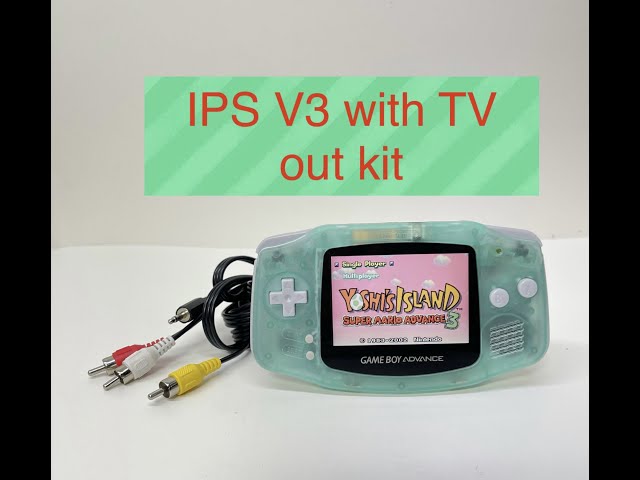 Excellent Mod, but with slightly tricky soldering
I installed this mod with zero soldering experience on a GBA that I had, since I was hoping to stream GBA games like Wario Ware: Twisted, and Boktai from their original cartridges. I bought a practice kit for surface-mount soldering, and thought I had it, but actually soldering onto the GBA motherboard was pretty annoying, so make sure you've got an iron and solder that will stick when you pre-tin the places on the board where you're supposed to solder. Also, make sure that you follow the instructions given on the unit here, and don't watch videos of other AV TV Output Mod installs, since there are some subtle differences that make the difference. The resulting screen looks great, especially after I clipped the touch-pad that controlled the different color output options. The AV out, as it's composite, is not the most beautiful, but for streaming it looks awesome. I'm really happy with this kit.
works great, TV out looks great on a PVM
I did this mod along with the cleanjuice and audio amp upgrade, and it all works together really well. While I don't use the TV out regularly, it looks fantastic on my PVM and makes up for not having a gameboy player or the like.